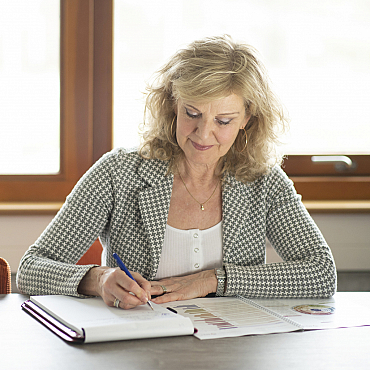 "He who knows others is learned, and he who knows himself is wise."- Lao Tse
My professional story
After working as a nurse in Rwanda, I took a teacher training course at the Amsterdam School of Social Work and started work as a vocational trainer in the care sector. In addition to my job as a teacher and supervisor, I studied Education Studies with a minor in Occupational Organisational Psychology at Leiden University. I became increasingly fascinated by the behaviour of people in organisations.
At the age of 35, I left with my family for Africa, Kenya, where I worked as a Board Member Human Resources for the Dutch School in Nairobi. Back in the Netherlands, I continued my career in the HRM field, where I was responsible for Management Development of senior and middle management and for supervising projects and organisational changes.
In 2003, I chose to dedicate myself fully to guiding managers and professionals in their personal and professional development. I started my own coaching practice. Based on my own experiences of living and working abroad, I also focused on coaching expats.
In 2004, together with five colleagues, I developed a Post HBO (university of applied sciences programme) Coach Practitioner vocational training course. I became one of the Founding Partners of the Alba Academy and, as a trainer and core lecturer, I remained associated with the institute until 2018.
Contributing to awareness through coaching is my passion. I continue to follow training courses about how to learn with your "head, body and heart" and the role that socio-emotional and spiritual intelligence plays in this context.
Professional references
EMCC/NOBCO Master Practitioner Coach
Partner of CSR Centre, stress and burnout coaching according to the CSR method©
Register of Psychosynthesis and Imagination Coaches and Counsellors
Licence holder Bar-On Emotional Quotient – Inventory TM ©
Member of Jung Association
Professional development
Stress prevention and intervention according to the CSR © method - CSR Centre

Shields training course for coaches and therapists -

DFGS, levels 1 t/m 4

Awareness coaching training course -

Elenchis

Systemic annual training, supervising of constellations in groups and in individual coaching -

Academy of Psychodynamics

Five-year Symbolic Psychology training course on the basis of C.G. Jung including two in-depth years of Mythology and Tarot -

Odrerir Foundation
Programme of Psychosynthesis and Imagination in coaching and counselling - School for Imagination
Advanced training in Transactional Analysis - Phoenix education programmes: TA 101 Certificate

EQ-i Certification -

PEN Psychodiagnostics
Intervision group for independent coaches and team coaches
Various vocational training courses and workshops, including: Masterclass Associative Techniques at the School for Coaching as well as the Voice Dialogue and Transactional analysis workshops
Research into my coaching approach under the supervision of Dr Johan Bouwer. We co-wrote an article that was published in the International Coaching Psychology Review in 2012