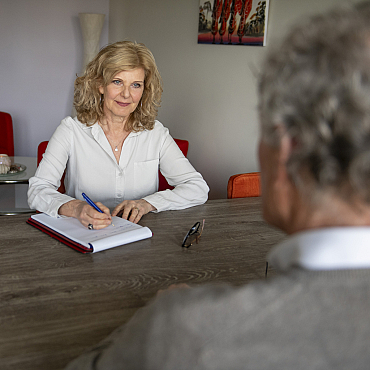 "Who looks outside, dreams; who looks inside, awakes."- Carl Gustav Jung
My approach
You will find the following core elements in my approach, whether it is individual coaching, team coaching or an intervision process:
The "click"
Personal
Effective
Lightness and humour
Made-to-measure
Result-oriented
Confidential
The "click"
To achieve real results, a good mutual "click" is essential. That is why every project, whether it is an individual coaching process, a team process or an intervision process, starts with an introductory meeting.
Personal
A coaching process with me is a meeting between two or more people. By connecting with you, the team and the questions at hand, I function mainly as a sparring partner, holding a mirror to you, to reveal your blind spots and patterns and make you aware of untapped potential. I look for what is appropriate for you or the team and what is needed. I focus on growth and on strengthening self-esteem, identity and beliefs, so that personal and team goals become attainable.
Effective
By using my observations, intuition and analytical skills and with the help of a test (EQ-i, Drives) or other tools (writing a biography, internal family, constellation work, techniques from Jungian Psychology and Psychosynthesis), we will (swiftly) get to the core of the question or development sought. You will discover how you can increase your repertoire of actions and learn to integrate matters that still need attention or processing. The result will be that you find pleasure, balance and strength in your life.
Lightness and humour
There is room for lightness and humour in all processes. These are powerful tools that allow us to connect with each other and sometimes breathe a sigh of relief, which is liberating. Humour helps to put things into perspective and to take a step back. Coaching can feel demanding at times, but at the same time it is an exciting, dynamic and interactive process, in which you will feel supported and we can laugh together too. My motto is: as light as possible, as deep as necessary.
Made-to-measure
I will make a personalised offer for every question, whether this involves individual coaching, team coaching or intervision. Based on an analysis of the question, I will draw up a proposal for the coaching process. This will include, for example, the reason, the question, the results sought, what is needed to achieve these and how we are going to achieve this. I will also specify the number of sessions, the duration of the sessions and the methods I will use. I will make a price offer based on the proposal. Once it is approved, we will begin work.
On average, an individual coaching process consists of between five and eight 1.5-hour meetings at intervals of three to six weeks.
A team project can vary from one team day to several sessions, depending on the coaching question and the results sought.
On average, a guided intervision process consists of four to eight sessions of three hours to one half-day, over the course of a year.
Result-oriented
Each process has a clear focus and specifically formulated results. This helps in the interim evaluation and possible adjustment of the proposed approach and working method. In most cases, results are fully achieved at the end of the process.
Confidential 
All talks and meetings are confidential. Nothing about the content of sessions is reported back to the client without the knowledge of those involved. Reporting back always takes place on the basis of the agreed coaching goals and results.  
The ethical and behavioural code of the NOBCO association applies.